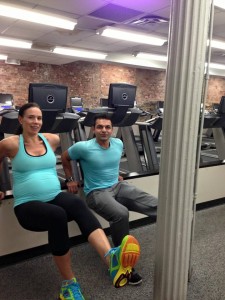 Weight loss secrets for women: In my entire twelve years of coaching women for weight loss. Pre, & post wedding, pre ≈ post natal, stress reduction, sport specific training or just general fitness there seems to be one common request, and myth. "How can i lose weight/ fat effectively and keep it off?" and "will resistance training make me bulky?"Empowered Fitness by Adam in Tribeca has finally decided to put this on paper and back this up with a recent video interview i was asked to do.
The simple and easiest answer to this question is "NO", women will not get bulky by lifting weights, or resistance training. Now, while this still continues to shock me as this myth continues to trend in 2014, i do want to clarify certain scientific and real life applications for weight loss for women and weight loss in general. I continue to use resistance training primarily for my client base (98% female) in Tribeca, fidi, Manhattan, for all levels of fitness and conditioning simply because resistance training at a high level increases the basal metabolic rate "BMR" which is the most efficient and long term method to shed weight and keep it off. It also counters a work hard play hard lifestyle for all those chocolate & wine lovers wall st professionals in manhattan. Meaning, if given only 2 workouts/ week I would use the entire two sessions with my female clients doing weight training. The condition is you lift hard and with near maximal effort. To simply explain work effort should be 85% of your max intensity at least.
This will in fact do the opposite of bulking. It will turn you into a smaller, tighter, toned and more confident person with less time in the gym and more time for everything else! Then you will really own your fitness. To further convince women the benefits of lifting weights and lifting hard is simply because in order to get bulky, you need testosterone which women have mush less of, a high caloric diet, or calotic surplus. More than just two sessions per week and a burning desire to get big like an elite level body builder. Unless you are a female who lives and eats and supplements like a competitive body builder you have no reason to shy away from resistance training! This is the link to a recent interview video i did to bust this myth. Happy Lifting!